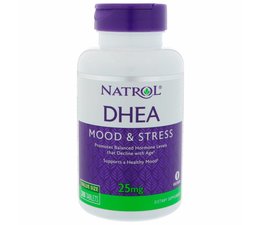 Natrol
Buy DHEA, 25 mg, 300 Tablets
Buy Melatonin? Order it here. Fast delivery throughout Europe. The best webshop for nutritional supplements and beauty products.
From: €48,99

For only:
€35,99
Incl. tax
Buy 2 for €33,99 each and save 6%
Buy 3 for €31,99 each and save 11%
Reviews
Review by H.Ulrich, Posted on 09-01-2020, 5 Stars.
Eine sehr schnelle, korrekte Kaufabwicklung, obwohl Vorkasse!
Review by walter, Posted on 18-03-2019, 5 Stars.
Goede kwaliteit. Snelle levering



5

stars based on

2

reviews

Buy Natrol DHEA – a high quality supplement at 25 mg per tablet in a pack of 300 tablets total. If you are looking for a natural way to support your hormone balance and promote your overall health and vitality, Natrol DHEA is the perfect choice.
DHEA, or dehydroepiandrosterone, is a hormone produced by the adrenal glands. It plays an important role in the production of other hormones, such as testosterone and estrogen. As we age, the production of DHEA in the body decreases, and this is where Natrol DHEA comes in.
Natrol DHEA offers a convenient way to provide your body with this important hormone. Each tablet contains 25mg of pharmaceutical grade DHEA to ensure optimal dosing. The pack of 300 tablets gives you a long supply that will last you for months.
Natrol is a reputable brand known for its quality supplements. Natrol products are carefully manufactured and subject to strict quality controls to ensure purity and potency. By purchasing Natrol DHEA you can be assured of a product that meets the highest standards.
In our webshop we want to offer you the best products to improve your health and well-being. We're proud to stock Natrol DHEA and give you the opportunity to reap the benefits of this important hormone.
If you want to support your hormone balance and improve your overall health, it's time to buy Natrol DHEA. Add it to your cart today and take control of your health.
Invest in your well-being and discover the powerful benefits of Natrol DHEA. Buy now and take the first step towards a healthier and more energetic life. Your satisfaction is our top priority and we are here to help you every step of the way.
Suggested Use
Take 1 tablet, one time daily, with a meal. Important! Read all information and warnings before use.
Other Ingredients
Cellulose, magnesium stearate, silica, stearic acid, cellulose gum, maltodextrin, gum acacia.
No yeast, wheat, milk, egg, soy, artifical colors or flavors, added sugar of preservatives.


Supplement Facts
Serving Size: 1 Tablet
Serving Per Container: 300
 
Amount Per Serving
%DV
Calcium (as Calcium Carbonate)
50 mg
5%
DHEA (Dehydroepiandrosterone)
25 mg
*
*Daily Value not established
No specifications found